How Laser Therapy Helps
Laser therapy optimises healing for shorter lay-off recovery times from a range of conditions and injuries. Quick, painless and non-invasive, low level laser therapy can deliver remarkable results in pain-relief, wound healing and soft-tissue repair. Both acute and chronic conditions can be treated effectively with rapid healing of good tissue quality with limited scarring.

Low level laser treatment optimises natural healing by modulating relevant cell activity with light of controlled wavelengths and energy density. There is a wealth of research on the physiological effects of low level laser therapy using Class 3B lasers such as Omega's, and we receive particularly good feedback on the treatment of horses. Over 92% of equine professionals who have rented our equipment as a trial have gone on to purchase and some of the 8% continue rental.
The anti-inflammatory effects of laser are often relied upon when drugs are contra-indicated but increasingly the value of considering laser first is becoming apparent to more practitioners. With laser, inflammation is reduced as part of the optimised natural healing process so it addresses the problem rather than the symptoms as NSAIDs tend to do. From muscle spasms and bowed tendons to mud fever and capped hock there is a laser therapy protocol to help.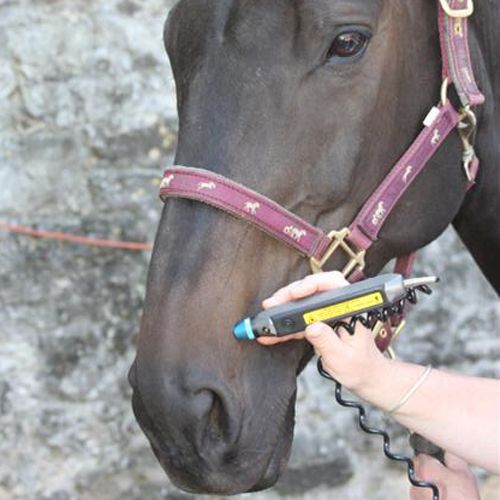 Recommended Package for Equine Therapists
What's included:
Xp Control Unit
Infra-red Laser Cluster
(5 x 820nm 200mW)
Small Multi-Wavelength Cluster
Single Infra-red Laser
(820nm 200mW)
Point-Finder Kit
(with audible indicator as required)
2 Pairs of Protective Glasses
Training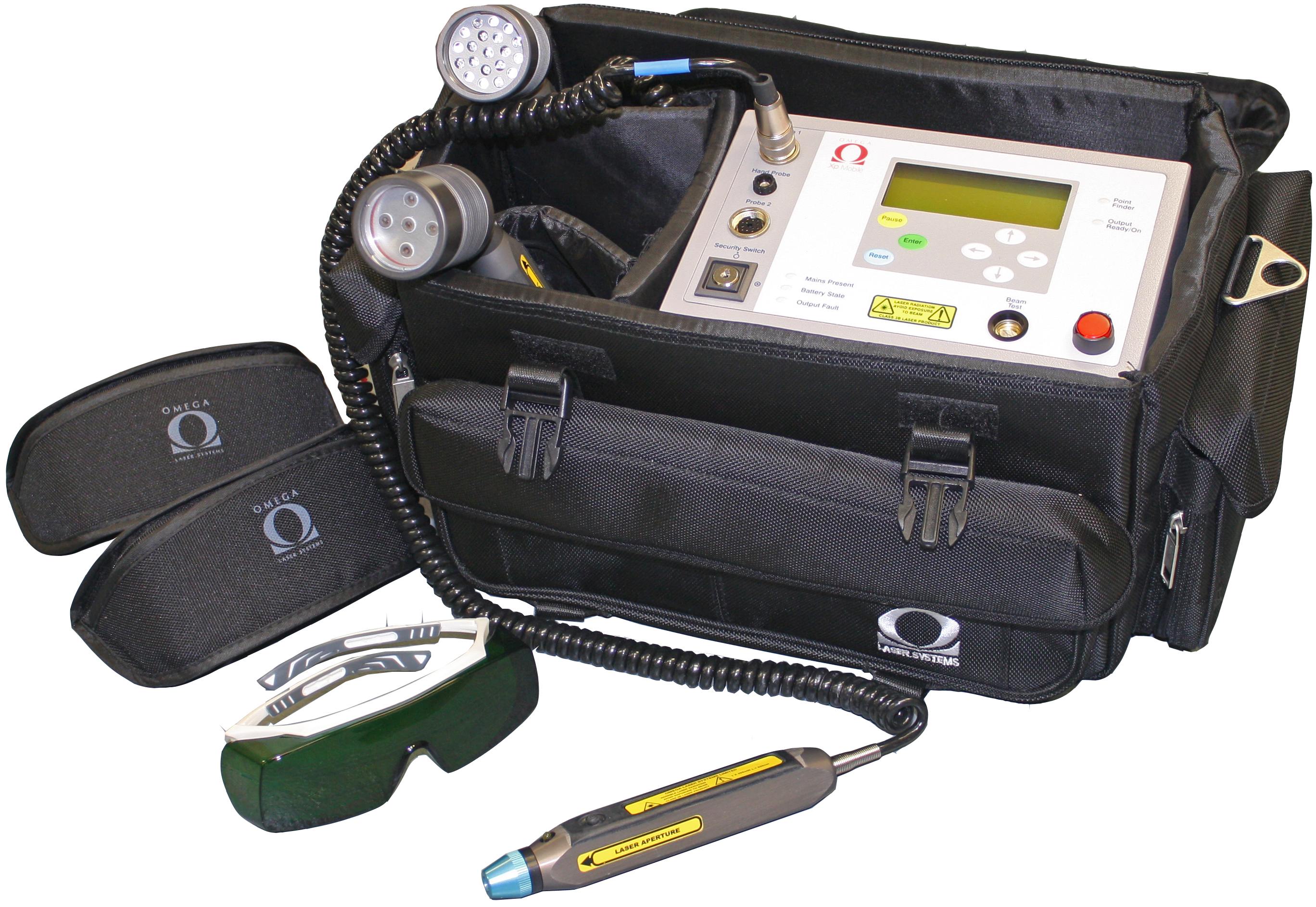 "Since I have been using the Omega Laser within my rehabilitation business I have found many useful applications. It is particularly useful with wounds when used in conjunction with cold water salt spa at encouraging healing inhibiting proud flesh and I have also been using it after PRP therapy with good results and even impressing some sceptics!!!! Another excellent application is the breaking down of scar tissue."
Some Relevant Research
Influence of low level laser therapy on wound healing and its biological action upon myofibroblasts
...CONCLUSIONS: Laser therapy reduced the inflammatory reaction, induced increased collagen deposition and a greater proliferation of myofibroblasts in experimental cutaneous wounds.
Histological assessment of the effect of laser irradiation on skin wound healing in rats
...As compared to non-irradiated control wounds, laser stimulation shortened the inflammatory phase as well as accelerated the proliferative and maturation phase, and positively stimulated the regeneration of injured epidermis and the reparation of injured striated muscle. CONCLUSION: LLLT at 670 nm positively influences all phases of rat skin wound healing.
"I am really impressed at the level of improvement the laser is having on a serious bowed and damaged tendon with one of the horses."
Contact us
Contact Omega to discuss the application of laser in your practice.
Call +44 (0) 1787 477551 or email info@omegalaser.co.uk